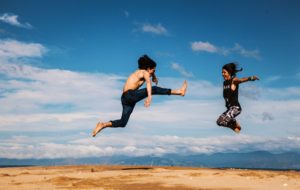 You thought, life is happening to you.
You felt like you have no control over what's happening, like you have no choice in the process.
You quite often find yourself saying "I don't know what's going to happen" like you had no impact on the events around you.
Can you relate to that?
I am going to give you a quick but powerful tool to understand and to take control over your life, now!
So, if you felt disempowered at any point because things just did not go your way….
KNOW THIS: you thought that Life IS HAPPENING TO YOU!
This is not only a lie which you've been told but also a very unhealthy and unproductive perception.
One which you can change immediately by turning it on its head.
Because the truth is: Life is happening FROM you!!!
Now think about it for a moment. Take your time and ponder the idea……
If you are the creator of your own experiences (which you are);
and nobody has any effect on how your life is going (which they don't);
and you want to manifest those amazing things in life (which you want)….
logic says you and only you hold the power!!!!!!!!
You just haven't learnt how to use it, so you are like a child with matches 😉
I give yo a hint, it's all hidden in your emotions.
All your power, your creations and manifestations.
For now, it's enough to know that Life is happening FROM you.
I am going to teach the rest. Hop on a free call with me and let's talk!
Love you, Andrea